In El Nacional we prepare the Caesar salad in a particular way, since we marinate the chicken fillets in oil, so they don't get dry and we serve it in buds. One of the secrets of this salad is the lettuce being very crispy, so iceberg or oak leaves must be avoided. The sauce of the salad is prepared with mayonnaise, lemon juice and anchovy fillets, and we add the classic croutons -that have been dried in the oven-, the grated Parmesan and the nuts.
An exclusive recipe that you can find in La Parada, one of our culinary spaces.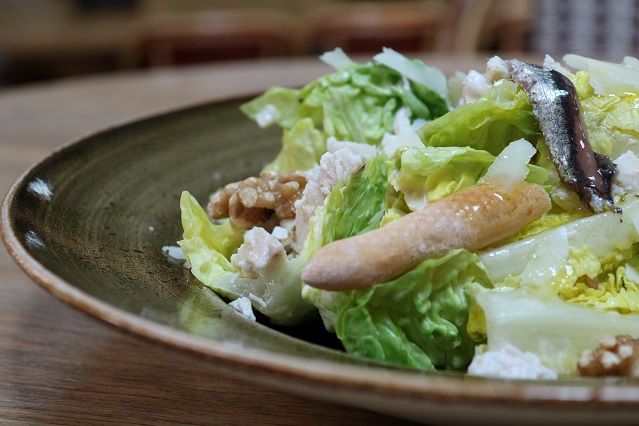 Do you know what is the origin of the Caesar salad?
Although its name suggests that the Romans invented it, the truth is that this recipe was born in Mexico, specifically in Tijuana.
One of the stories that is told is that Caesar Cardini -an Italian chef who lived in Mexico- was its inventor. On July 4, 1926, many people went to his restaurant. He did not expect so many customers and he ran out of provisions, so it came to him to create a salad with the food he had: lettuce, egg, cheese and dry bread. To this mixture he added a sauce from an old family recipe. And this way the Caesar salad was created.
And from our cellar…
If you go to La Parada at El Nacional, apart from tasting our menu you will also find a full cellar with vermouth and aperitif wines from Jerez, a good range of Damm beers and a selection of white, rosé, red and sweet wine, cava and cava or wine sangria.
You will find us 365 days a year from 12 p.m. to 2 a.m.